Women Empowerment in PNG
For the first time in his life, Yalingsaguo holds his own card in his hands. It's not an ordinary card, it's a bank card.
Yalingsaguo is from a tiny village nestled in the mountains of Morobe Province in PNG.
At 53, she has seen the harshness of life and yet stands gracefully as a pillar of strength alongside her husband, Gerry.

Gerry and Yalingsaguo stand in front of the house Gerry built after the couple moved to higher ground.
Photo: Lillian Keneqa/Save the Children PNG
Life hasn't been easy since she left her parents' house near the coast and moved with Gerry to the mountainous region she now calls home. Together the couple had three children but sadly lost a daughter a few years ago to an unknown illness, something that still causes Yalingsaguo pain to this day.
Tragedy struck the family again when in 2016 they lost their home, gardens and livestock to fierce flooding from the Kumalu River. The road to recovery was long and difficult. The couple have since moved to higher ground, and Gerry – who is a skilled carpenter – has built them a beautiful home on top of a rocky mountain.
Despite all these challenges, the couple worked together and built a small school in their community. Known as Snake River Elementary School, it serves more than 100 children who live near the village. Yalingsaguo and Gerry attest that this has been one of their greatest lifetime achievements and contributions to their people.
A new adventure awaits you
This year, as they celebrate 34 years of marriage, Yalingsaguo will also be celebrating new changes. Since her marriage, the couple's household finances have been managed by her husband, Gerry, who is the breadwinner.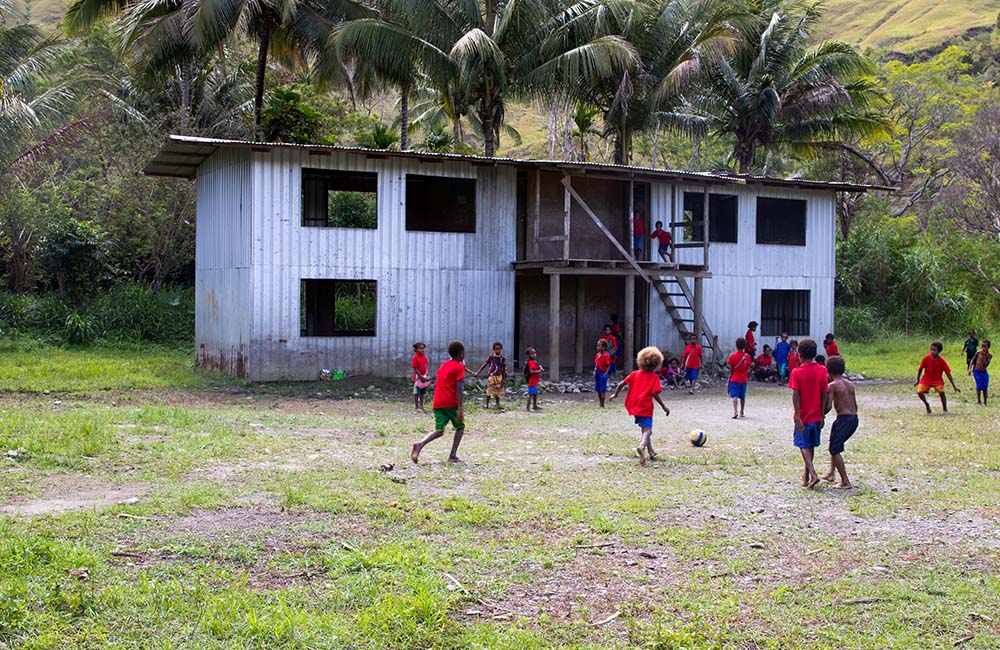 Students play football at the school that Yalingsaguo and Gerry built together.
Photo: Lillian Keneqa/Save the Children PNG
That changed when Save the Children came to the couple's small community to distribute cash payments to people in difficulty.
When Yalingsaguo learned that one of the requirements for receiving support from the money transfer project included opening an account with Bank South Pacific, she quickly reported the news to her husband.
Gerry remembers her answer. "I told my wife, you have to open your own account. So when you have extra money in your small market, you can deposit and save," he says. "I may be the breadwinner now, but there will come a time when we need your help, so we have to prepare now."
With Gerry's support, Yalingsaguo went through the registration process and opened an account. She was beaming with joy and excitement when she came out with her new bank card!